Akita Oga (男鹿アキタ) is one of the main heroes of Shinkansen Henkei Robo Shinkalion THE ANIMATION. He first appears in Episode 03. He is voiced by Manami Numakura.
Personal
Appearance
Akita Oga's main attires consists resene dark crimson t-shirt and a red sleeveless coat and a long pants and brown shoes. When driving the Shinkalion E6 Komachi, Akita wears a full red bodysuit with white sections and black arrow, and a set of headphones with glowing red lines.
Personality
Akita Oga is a mysterious, intelligent boy with the cold and cool personality. He sometimes to have fun with his friends like Hayato Hayasugi. Unlike his friends, He is an extremely calm and serious individual.
Relationships
In the series
Trivia
Background
Resemblances
Notes
Gallery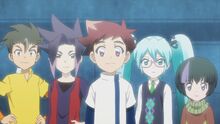 Links
References
External Links