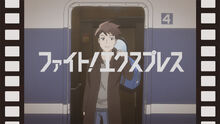 Fight! Express (ファイト!エクスプレス) is a series of classic JR Tokai commercials.
In The Anime
In Episode 58, Isaburo Yatsushiro said the 1989 version of it is his favorite, and declared that he will make the Shinkansen Ultra Evolution Institute become "the Fight! Express in the scientific circles".
Trivia
The title of Episode 58 is a play on that of the commercial series.
It is the fourth JR commercial that is mentioned in the series.