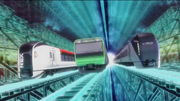 The Zailiner (ザイライナー) is a type of support mecha in the Shinkansen Henkei Robo Shinkalion Z series. The design of Zailiners are based on Zairaisen (conventional trains) rather than Shinkansen trains. They can form "Z Combinations" with the Shinkalion Z units, in which a Zailiner replace the arms and/or legs of a Shinkalion Z unit.
List of Zailiners
Z Gear Original Zailiners (non-canon)
Z Gear Original Zailiners (Zギアオリジナルザイライナー) are Zailiners that are exclusive to the mini-game in the Ultra Evolution Mobile Z Gear toy. They won't actually appear in the anime or as physical toy products. Some of these Zailiners are based on fictional trains instead of real-life Zairaisen trains.
Zailiner E235 Yokosuka Sōbu Kaisoku (remold of E235 Yamanote)
Zailiner 313 Tōkaidō (remold of HC85 Hida)
Zailiner 225 Urban (remold of 323 Osaka Kanjyo)
Zailiner 787 36+3 (remold of 883 Sonic)
Zailiner 261 Hamanasu (remold of 261 Hokuto)
Zailiner Speedjet (remold of E259 N'EX)
Zailiner Blue Speedjet (remold of E259 N'EX)
Zailiner Yellow Speedjet (remold of E353 Azusa)
Zailiner Green Speedjet (remold of E353 Azusa)
Zailiner Purple Speedjet (remold of E353 Azusa)